Our pal Andrea is an American Idol superfan and will be our resident AI expert/recapper/correspondent here at Sooperserial. I'm not totally AI hardcore (I kind of tune out after the funny auditions), but so many people are, so we are really excited to have Andrea on board as a guest blogger and our AI go-to gal. If you, too, know some AI #1 fans, please direct them our way for all their AI info as per Andrea. Below is a little write-up she did for the upcoming season. Stay tuned for more!

xoxo,
Lex


Hello, all! This is Andrea just stopping by to let you guys know that I will be guest writing for my friends here at Sooperserial during the American Idol season this year! And if you are as obsessed with American Idol as much as I am, then you can understand my anticipation for Season 8 to start! The audition rounds are scheduled to start this January and I cannot wait!
A two night, four-hour event is scheduled for Tuesday January 13th and Wednesday January 14th at 8
:00, and the audition rounds are, in my opinion, the funniest and most entertaining part of the American Idol season! I am honestly watching Fox right now just to check and see if they have started running commercials yet. Yes, I am that obsessed.

I am so excited that my friends Lauren and Lex are kind enough to allow me to share my obsession with their lovely readers. I am going to be writing weekly reviews on American Idol here on this fabulous website. And since I will be out of school and have lots of time on my hands, I plan on writing as many reviews as I possibly can! So please make sure you stop by, read my reviews and leave some comments! Just a warning…I get really, really REALLY into American Idol and foresee my articles being extremely long and very detailed. So I am sure it will be an enjoyable read for any true American Idol fan.
In my anticipation for the new season to start, I have started Googling "American Idol Season 8" for spoiler alerts. I have indeed found them! There is one particular spoiler website that I always read and they have posted names of contestants that have made it to the Hollywood rounds. It's exciting because you can also follow the links to the potential contestants Myspace pages and YouTube videos to hear them sing and judge them for yourselves before they are judged on the show! As you all know, the auditions have already taken place by the time we watch them on television, so the contestants go about three months knowing that they have made it to Hollywood and have to stay quiet about it till the show airs. That would be extremely difficult for me to do - I would honestly tell everyone I know if I made it onto the show.

But anyway, I am extremely excited about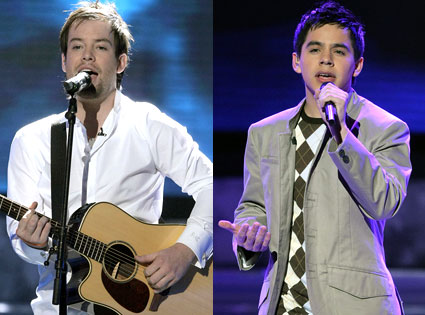 the new season and if anyone wants to read the spoilers, they can just e-mail my friends here at Sooperserial and I can forward on the information to you. I understand that most people do not like spoilers and would instead choose to watch the show and discover what has happened but in my opinion, spoilers are great!! (Editor's note: Lex loves spoilers!)
On a final note, thank you to Lex and Lauren for allowing me to share my American Idol obsession with you lovely readers! Enjoy!
xoxo,
Andrea